Alumni,

Our prayers are offered for those who are suffering from the destructive fires and from the devastating impact of Covid-19. It is during these trying times that we are all empowered by our faith and hope and from the support of our fellow SFHS community members.

The strength of our community was evident during the instruction, connection and inspiration administered at the recent Saint Francis all employee in-service. Unlike previous formats, our school liturgy was a drive-in Mass and the training and bonding occurred on Zoom. The methods changed, but the Holy Cross Mission remains the same. Principal Katie Teekel '00 shared stories of Lancers demonstrating grace, joy, and resilience. President Jason Curtis emboldened us to have zeal as we build programs, create new opportunities, and extend hospitality to the entire Lancer family.
Saint Francis begins this academic quarter via a virtual schedule. We are hopeful that circumstances this Fall will allow some on-campus experiences for students. Improved conditions will enable us to pivot to a hybrid or all on campus learning environment in subsequent academic quarters. To help navigate the ever-changing pandemic landscape, Saint Francis has assembled a team of medical professionals that acts as a valuable resource to ensure the health and safety of the entire Lancer community. Whether on campus or online, Saint Francis continues to employ hope and zeal to provide a premier education that maximizes the spiritual, intellectual, and emotional growth of all students.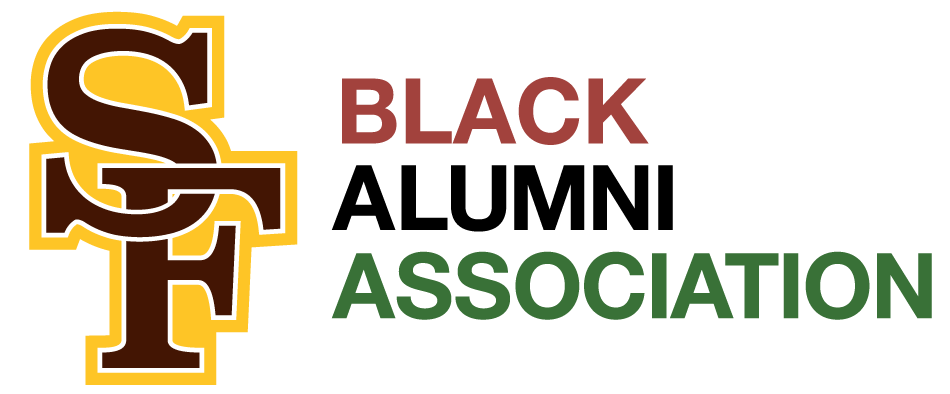 We are excited to announce the newly formed Saint Francis Black Alumni Association. This group is being led by alumni (Eric Stuart '96, Charles Tharp '97, Damesha Craig '97 and Ramee Brown Serwanga '95). The SFBAA's mission is to support current and future Black students and faculty in promotion of equitable practices at all levels of campus administration, culturally supportive educational experiences, and commitment to transformational community work, particularly in communities of color; encouraging a well-rounded high school experience for all students. The SFBAA will often partner with the existing Black Student Union, and focus on opportunities to give support such as mentoring opportunities, career panels, a newsletter and more. If you would like to receive regular updates, share ideas, and/or be involved in future activities, please contact the SFBAA by email at stfrancisbaa@gmail.com.
We have made the difficult decision to postpone the in-person component of the 2020 Grand Reunion on Saint Francis campus and reschedule when large group gatherings are permissible. In the meantime, on September 12th we will host a virtual reunion for classmates from the 0's to connect, reminisce, and celebrate this milestone occasion. Please continue to remind your classmates to update their contact information at sfhs.com/alumni/connect so they don't miss announcements for the virtual and on-campus reunions.
In accordance with the CIF (California Interscholastic Federation) and Central Coast Section, all high schools in California will not participate in fall athletic contests. If county and state health directives allow, the CCS (Central Coast Section) has released a condensed athletic schedule beginning with games in January. Visit sfhsathletics.com for updates.
Holy Cross Alumni Interns
I'm happy to introduce our 2020 Holy Cross Alumni Interns, Courtney Ogren '16 and Grant Lucas '16. Courtney's responsibilities will include marketing, coaching soccer, and teaching a mindfulness class section. Grant will help in the Band and Social Studies departments and teach a journalism section. The 10 month program gives interns a stipend and an opportunity to explore opportunities that match their interests and career goals. Visit sfhs.com/intern for more information.
Helping young SFHS alumni
SFHS Class of '20 survey responses reveal that only about one-third plan to attend college on a university campus. Almost two-thirds will live at home while remotely attending school. A small percentage are undecided or taking a gap year. Clearly the pandemic has necessitated a change in plans for many high school graduates. We are proud of the resilience demonstrated by our young Lancer alumni. In our efforts to help these college-age and recent college graduates, the Alumni Association continues to facilitate connections between them and Lancers already established in their careers. Do you have time for an informational interview or to be a mentor? Please consider posting your willingness to help on the Saint Francis Alumni LinkedIn Group page. You may also email me your name, profession or career, and how you might be able to connect with a young Lancer. Our private LinkedIn group is also a great place to post job and internship openings or connect with other Lancers in your area, field, or interest group.
While we miss seeing students and alumni on campus, we continue to witness Lancers extending themselves for others. Please remember to support SF Family owned businesses. Thank you also for considering a gift to the Saint Francis Fund. The fund provides immediate support to Lancer students and educators who have been adversely impacted by the pandemic.

You continue to be in our thoughts and prayers and we continue to be grateful for your dedication to your Lancer family.

Our tradition continues… Go Lancers!

Greg Calcagno '83
Alumni Director
Saint Francis High School
650-210-2437
Twitter: @SFHSalumni
1885 Miramonte Avenue
Mountain View, CA 94040
Saint Francis High School, sponsored by the Brothers of Holy Cross, admits students of any race, color and national or ethnic origin. The school does not discriminate based on disability if the student is otherwise qualified and can, with reasonable accommodations, meet the graduation requirements of the school.