Alumni,

This year has featured many "firsts" for Saint Francis High School. Throughout these new experiences, the one thing that has never changed is the vibrancy of the Lancer community!
We couldn't yet bring alumni onto campus for the 2020 Grand Reunion; but, we could bring Saint Francis to them. The Saint Francis Alumni Association welcomed guests to our first Virtual Grand Reunion with drone footage traversing our beautiful campus. The virtual format enabled us to connect alumni from across the globe to catch-up and share nostalgic memories. It was great seeing alumni reunite with fellow Lancers and Holy Cross Crusaders, including a resident of the Philippines "returning" to campus for the first time since his graduation in 1960!

When large gatherings are allowed, we will reschedule the Grand Reunion for the Holy Cross Class of '70 and the Saint Francis Classes of '60, '70, '80, '90, '00, and '10. In the meantime, check out our reunion page to see the Aerial Campus Video, the Welcome Video, featuring our Alumni Walk of Fame Timeline, and the Events Highlights Slideshow. If you enjoy trivia, test your knowledge of pop culture and historical events in our Trivia Through the Decades challenge! Let us know how you do!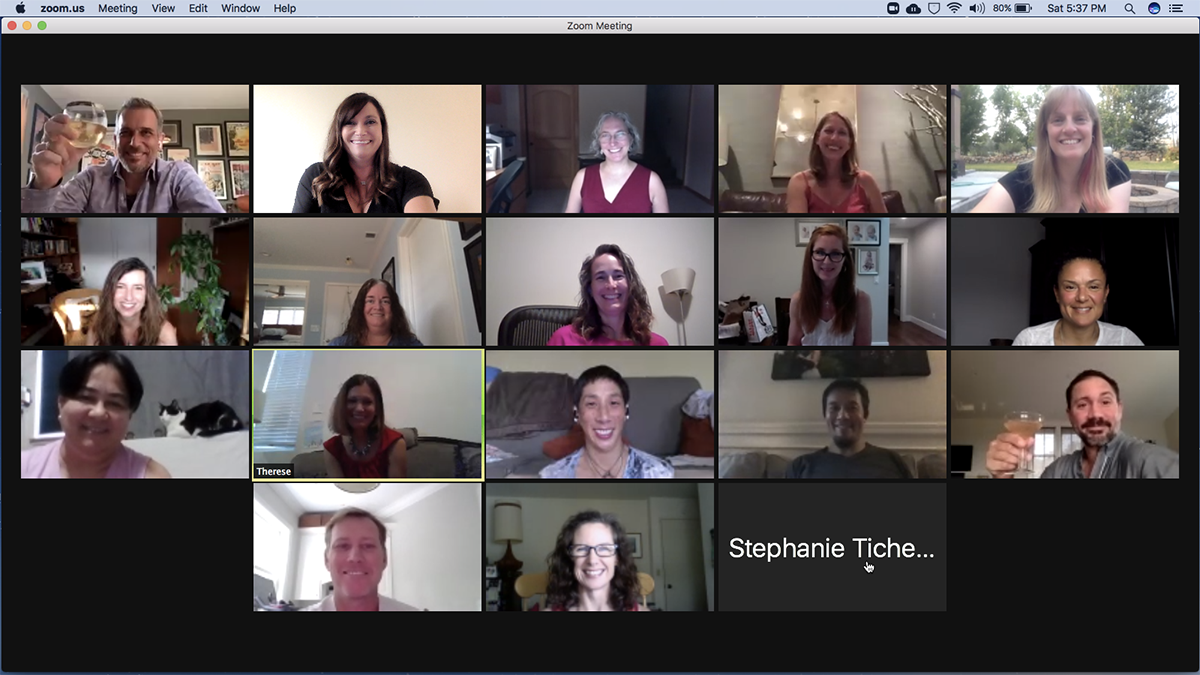 This strength of our community was again on display at our first Virtual Lancer Auction on September 25th. It was reflected in the heartfelt messages of gratitude from families benefiting from tuition assistance funds thanks to alumni and parent generosity. It was also evident by all who attended, bid, donated to, and supported the auction. This photo from SFHS graduate and current parent Amy Ward Hove '91 is a great example of school spirit and the unmistakable bonds in our Lancer Family. Thank you to all who participated in the event. If you have not yet had the chance and would like to support the auction, please consider a gift to the Saint Francis Fund benefiting academic innovation, co-curricular programs, and tuition assistance.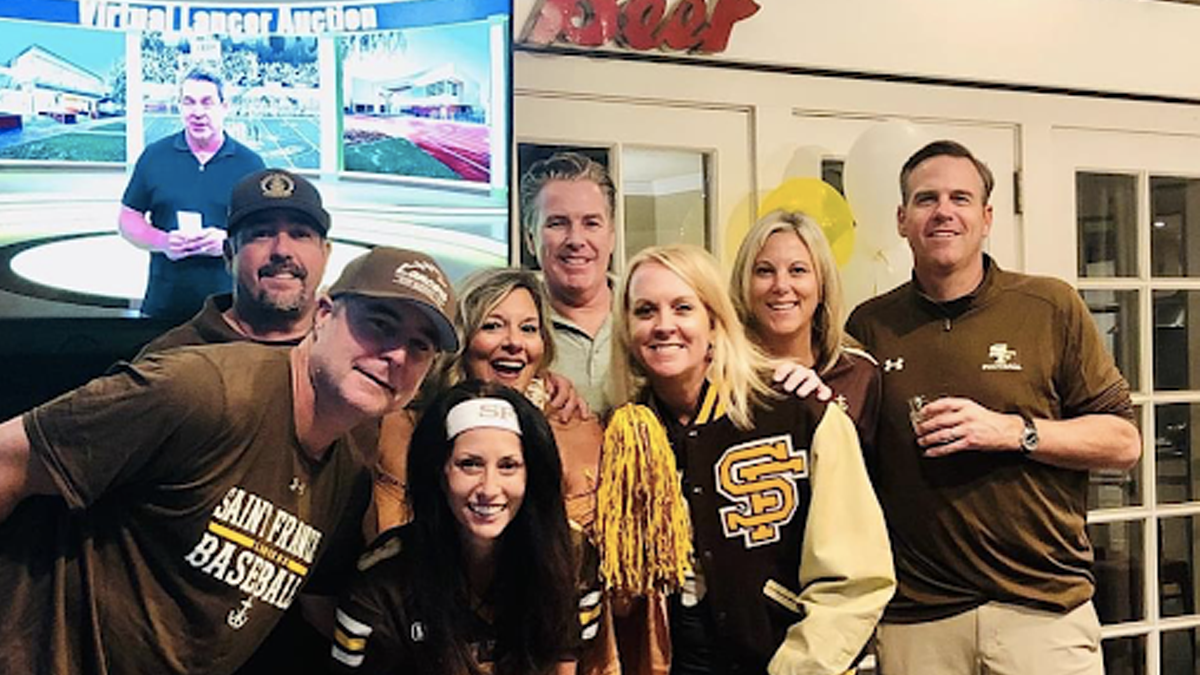 For the first time the Alumni Association will host a virtual, expanded format Alumni Speaker Series. This program will continue to offer professional advice for young Lancers; but, instead of a one-day, on-campus event, the presentations will be offered several times a month starting in November. Alumni will be able to share knowledge about their work and insights from their personal career journeys. With the virtual format, alumni from across the country or beyond can participate. Students and young alumni will have the opportunity to ask questions during the live sessions or watch the recordings at their convenience. Please email me if you would be interested in helping young Lancers by sharing your career during a Virtual Alumni Speaker Series interview.
We continue to facilitate connections between Lancers on the Saint Francis Alumni LinkedIn Group. This private LinkedIn group is a great place to post job and internship openings or to connect with other Lancers in your area, field, or interest group. It's also a convenient place to share your experience and expertise with young alumni exploring career options. With a limited amount of time, you can be tremendously helpful to young alumni by answering questions, reviewing a resume, or giving concrete suggestions for careers in your field. If you have a little more time to share your experience and expertise, you can offer to be a mentor to a young Lancer during several sessions or as a contact giving periodic support. Please consider posting your profession and how you are able to help on the Saint Francis Alumni LinkedIn Group page.
We are happy to announce that the Lancer Locker Online store is open for business! You'll find Lancer sweatshirts, ¼ zip pullovers, water bottles, hats, and much more, in brands that include Nike, Under Armour, and North Face. It's now even easier to get your Saint Francis swag and show your Lancer pride!
Saint Francis Black Alumni Association
Thank you to the alumni that attended our September Welcome Back to School Zoom call. The SFBAA was very well received, and thankful for the feedback and hopes shared by those on the call. We are also working with the Black Student Union (BSU) and the Saint Francis Alumni leadership to plan some virtual events for this Winter and Spring. If you'd like to be added to our newsletter distribution list, please email us at stfrancisbaa@gmail.com. Feel free to follow us on Instagram (@stfrancisbaa) or Facebook (St. Francis Black Alumni Association group)
Saint Francis Putting Contest
Thank you also to the alumni who participated in the first Saint Francis Putting Contest. Check out the creative and impressive shots made by Joseph Bramlett '06, Clay Wayman '05, Laura Warmenhoven Duganne '01, Matt Maguire '98, Matt Scharrenberg '95, Jacob Culaton '20 and Jay Knockenhauer '07. Even when we can't fully gather together, we can still find ways to connect and show the strength of our Lancer community!
Saint Francis hosted our first Virtual Open House for prospective students and our SFHS "house' continues to be open for all to "visit" on the SFHS Open House website. Even if you do not have an incoming freshman, as alumni you will feel Lancer pride when seeing our beautiful campus and impressive programs. The site has videos from our acclaimed band, color guard, choir, and drama on the performing arts page. You'll hear and see teachers and students sharing their passion for interesting and dynamic academics. Be sure to "stop by" to see our enriching campus ministry programs and hear an overview of our celebrated athletics.
During a year of many firsts and added experiences, our Holy Cross Mission to educate the whole person, our commitment to excellence, and the strength of our community will never change.

Our tradition continues… Go Lancers!

Greg Calcagno '83
Alumni Director
Saint Francis High School
650-210-2437
Twitter: @SFHSalumni
Instagram: @sfhs_lancers_alumni
1885 Miramonte Avenue
Mountain View, CA 94040
Saint Francis High School, sponsored by the Brothers of Holy Cross, admits students of any race, color and national or ethnic origin. The school does not discriminate based on disability if the student is otherwise qualified and can, with reasonable accommodations, meet the graduation requirements of the school.